Congratulations! The integrated optical devices developed by Shiweitong have been successfully applied to inertial measurement equipment of China's space station and core module
Time:2021-04-29 19:25:00 访问量:632
At 11:23 a.m. on April 29, 2021,the Long March 5B rocket carrying the space station and the core module,it blasted off from China's Wenchang Space Launch Site,about 494 seconds later,the Tianhe core module successfully separated from the rocket,into a predetermined orbit,at 12:36,the wings of the solar panels are unfurled and working properly,the launch mission was a complete success.The successful launch of the mission marks the full launch of the in-orbit assembly and construction of China's space station, laying a solid foundation for the smooth implementation of subsequent missions.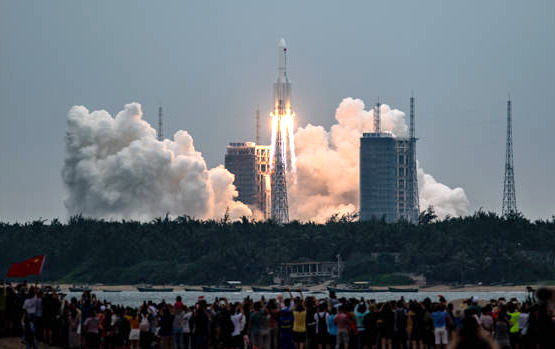 The integrated optical device developed by Shiweitong has been successfully applied to the inertial measurement equipment of the Chinese space station and the core module.It acts as the "eye" of the core module,can accurately know the direction of the cabin body, and help the executive agencies to make corresponding adjustments,ensure the core module to achieve accurate on-orbit stability control.It will also play a key role in rendezvous and docking.
The new-generation carrier rocket, the Shenzhou series spacecraft, the Tiangong-1, the lunar exploration program, the second-generation navigation satellite system and other major national projects,and today, with the successful launch of the Core Module into orbit,Shiweitong has participated in and witnessed the vigorous development of China's space industry,with more than 20 years of intensive work, it has been making continuous contributions to becoming a science and technology power and a space power.
Behind every achievement,it is the research and development team of Shiweitong that keeps on researching and innovating,and a commitment to high standards and a craftsman's spirit,It is the joint efforts of the whole Shiweitong. Every one of us should feel honored and proud!
The success of Shiweitong,also benefits from the opportunities given by the country and The Times.As a high-tech enterprise,Shiweitong is willing to make new and greater contributions through continuous innovation and surpassing with its strong technical strength,this is also our due national feelings and corporate social responsibility.
Let the glory of today be endowed with the future full of opportunities and challenges. Let us work together unremittingly to make new memories and remember them together!